This super easy and delicious bagel recipe will have you making your very own bagels in under two hours, multiple times a week if your family loves bagels as much as mine does. All you need to get freshly baked bagels in your pantry today are basic pantry staples like flour, salt, yeast, and sugar. If you do not keep these things in your pantry at all times, you are missing out! Stop reading, head down to Kroger, pick up these items, and come right back!
As a lover of baking, and money, I wanted to learn how to make some of my favorite things at home. With a recession looming and what seems to be a food shortage, prices of basic things are skyrocketing. Yes, bagels are not a necessity, but it sure is good to have in the morning when you're rushing out the door. And while I've been out on maternity leave, I figured I'd use my time wisely and learn something new. I landed on sourdough starter and BAGELS.
Now I am not from New York, and I've only visited once, but it doesn't take a rocket scientist to know that New York is synonymous with the words pizza and bagels, with Lox bagels being one of the most popular snacks in the city.
Basic Ingredients
Here is what you need to get started to help bring your bagels to life.
Active Dry Yeast – This will help the dough rise. Active Dry is different than instant yeast, so make sure you have the right one.
Warm Water – helps to activate yeast which again is needed to rise the dough. Water should be filtered between 105 – 115 F. If the water is too cold the yeast will not activate and if it's too hot, the yeast will be killed.
Bread Flour – this type of flour is high in protein and gives bread its chewy texture. All-purpose flour will work here too, but your bagels will be softer than what you're used to.
Salt – helps bring out the flavor. I use pink Himalayan.
Granulated Sugar – helps sweeten the dough and feed the yeast. I use pure cane sugar.
Getting Started / Dough Rising
In a large mixing bowl combine yeast, sugar, and warm water. Do not mix. Allow ingredients to sit untouched for 5-10 minutes waiting for the yeast to bloom. If you do not see foam accumulate on top, do not continue. This means that the yeast is dead and you will need to start over.
While you wait for the yeast to bloom, in another bowl, mix the flour with salt.
If you see the foam, add the flour and salt mixture to the yeasty mixture and mix with a wooden spoon, or your hands until just combined. Then dump the shaggy dough onto a lightly floured surface and knead for 10 minutes until your dough ball is smooth and elastic (which means it will bounce back when poked with a knuckle).
Add one teaspoon of oil to your bowl and place the dough ball back into the bowl coating it in the oil. Cover the bowl with a damp tea towel or plastic wrap and place it in a warm spot for one hour or until your dough is doubled in size. Or you can forget about them for an hour and a half as I did on my second attempt. I think they were a bit softer that time.
In the winter I placed my bowl in my oven (the oven is off) in the summer, I can place my dough in the garage and my dough usually rises in half the time. We live in Georgia.
Shaping / Boiling Bagel Dough
Once your dough has doubled in size, you are going to punch out the gas in your dough and turn the dough onto a lightly floured surface again. Cut the dough in half and then cut each half into four pieces, as equal as you can get it. You should have eight equal pieces.
Take a piece of dough and gently shape it into a small dough ball by pinching the dough into itself and gently rolling it between your hands or against the floured surface cupping your hand and rolling the ball until the pinched seam is smooth (see video)
Once you have 8 dough balls, you will cover them with your damp tea towel or plastic wrap for ten minutes. This allows the dough to rest, we are not rising the dough again.
While the dough rests, preheat your oven to 425 F and bring a large pot of water to boil. Add a tablespoon of honey to the water.
After 10 minutes, use your index finger and thumb to create a hole in the middle of a dough ball. Then gently stretch the hole to about 1 inch in diameter. Repeat this step for each dough ball.
Reduce the heat on your pot and using a slotted spoon or spider, gently add 1 – 3 bagels to your water boiling for 1 minute on each side. Place boiled bagels on a parchment paper-lined cookie sheet. Repeat until all bagels have been boiled. Boiling the bagels helps the dough keep its shape while baking.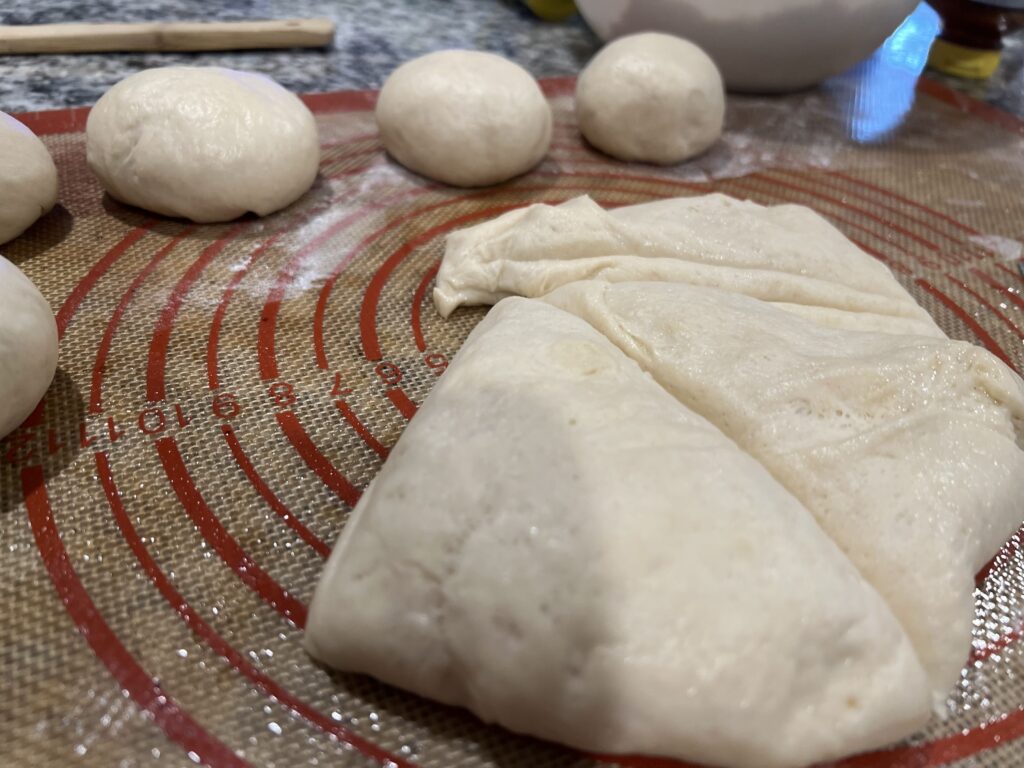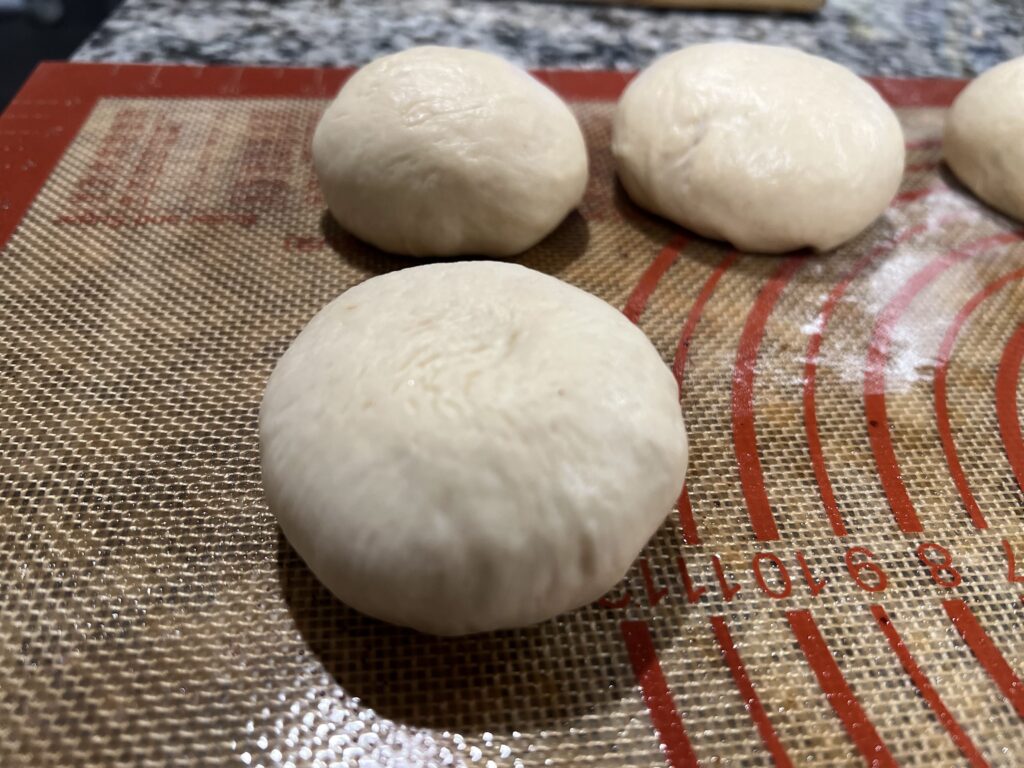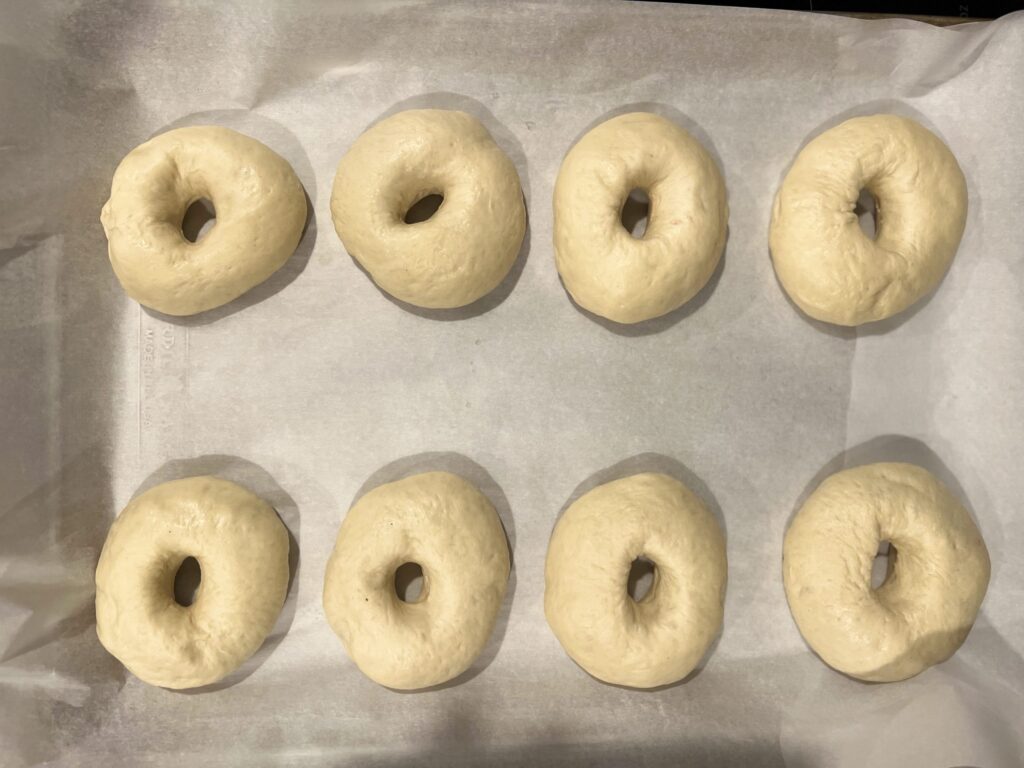 Toppings / Baking
At this stage, you are ready to top each bagel with a topping of your choice. I am an everything-season kinda girl so I use an egg wash (one egg and 2 tablespoons of water), or you can use some heavy cream or milk. If you're vegan, you could just top the bagel without using an adhesive. In my first attempt at making bagels, I sprinkled the season on top as soon as they came out of the pot.
Once you have topped your bagels, you want to place them in your oven for 20-25 minutes or until the tops are golden brown. Keep an eye on your bagels since every oven is a little bit different. Mine took 20 minutes and they were done.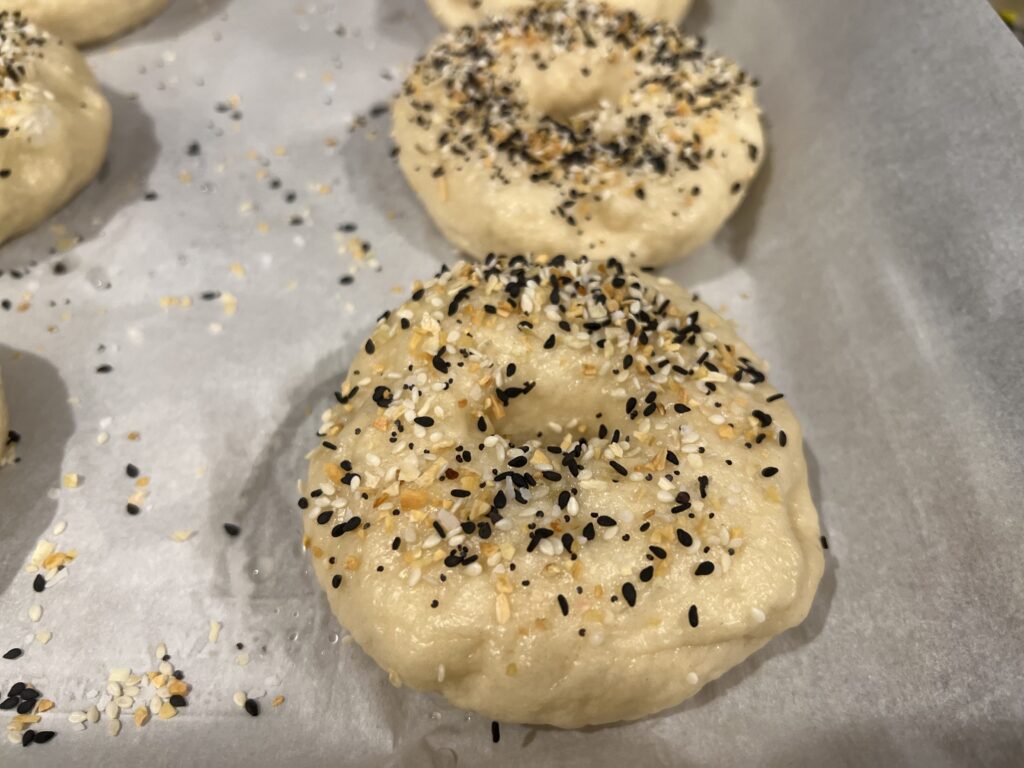 Storing
Once completely cooled, you can store them in an airtight container for a week or in a Ziploc bag. I am sure these will freeze just fine, but I did not try this because they were gone in two days.
If you decide to freeze them, allow them to come to room temperature before toasting and slathering them with cream cheese.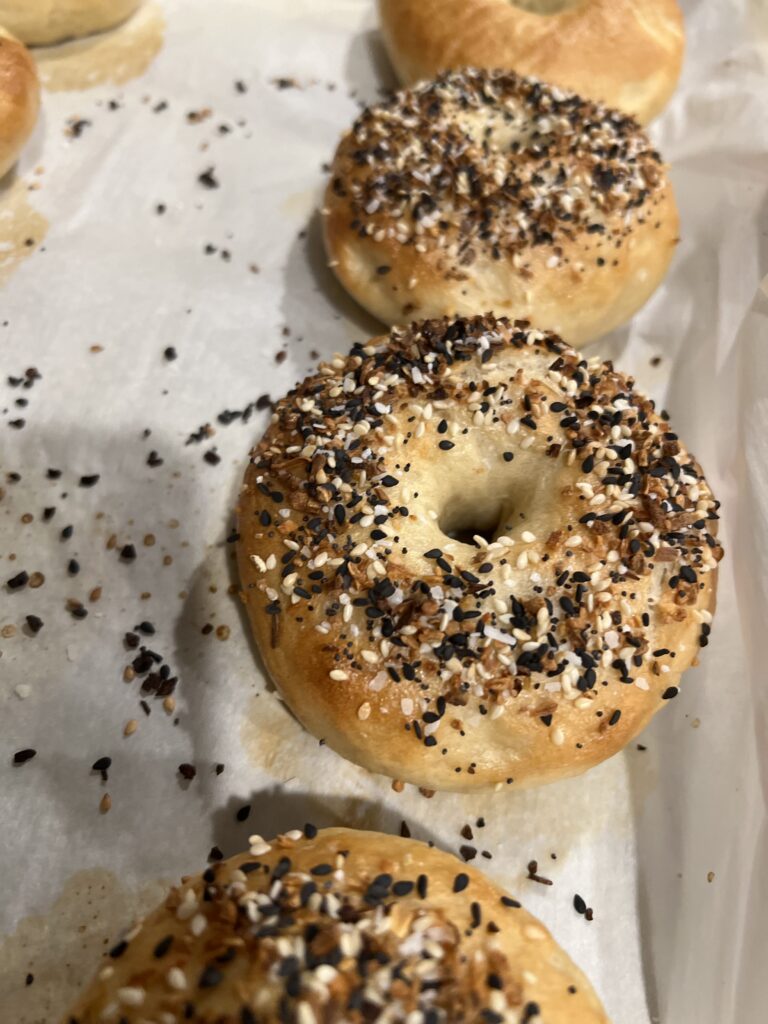 Prep Time: 20 Minutes | Cook Time: 20 Minutes | Rise Time: 1 Hour | Total Time: 1 Hour 45 Minutes
Ingredients:
1 1/2 cups warm water (110°F to 115°F)
2 1/4 teaspoons active dry yeast (1 package)
3 tablespoons sugar
3 to 3 1/2 cups all-purpose flour
2 teaspoons salt
1 tablespoon honey
1 large egg, beaten with 1 tablespoon water
Everything seasoning, Poppy seeds, sesame seeds, cinnamon sugar (optional)
Instructions:
In a large bowl, dissolve yeast in warm water and sugar. Let stand for 5-10 minutes or until the mixture becomes foamy.
Add 3 cups of flour and salt to the yeast mixture and stir until the dough is just combined.
Knead the dough on a lightly floured surface for 10 minutes or until it becomes smooth and elastic. If the dough is too sticky, add additional flour as needed.
Place the dough in a greased bowl, cover it with plastic wrap, and let rise in a warm place for 1 hour or until doubled in size.
Preheat your oven to 425°F and line a baking sheet with parchment paper.
Punch down the dough and divide it into 8 pieces. Roll each piece into a ball and poke a hole through the center with your finger. Stretch the hole to about 1-2 inches in diameter.
Bring a large pot of water to boil and add honey.
Boil each bagel for 1 minute on each side and place on the prepared baking sheet.
Brush with the egg wash mixture, and sprinkle with the desired topping.
Bake for 20-25 minutes or until the bagels are golden brown.
Remove from oven and transfer to a wire rack to cool.
Enjoy your fresh, homemade New York-style bagels! Serve with cream cheese or any other filling of your choice.
Let me know in the comments below if you decide to try this recipe. It was really fun to make bagels for the first time at home. I don't think I'd purposely purchase store-bought again when I can have freshly baked bagels in about 2 hours.