In the wake of being more consistent with the blog, I thought it would be fun (+ cheesy) to implement a segment called "Lunch Break." It will post every Wednesday at 12 Noon EST. It will showcase two things: my #OOTD and what I had for lunch. I'd also like to answer any questions or give advice to my readers allowing you guys to actively participate in the blog. So welcome to the first ever LunchBreak! *audience erupts in applause*
This week I'm wearing some steals I found at the Goodwill! Yes, I took $20 and snagged this very warm and vintage Christian Dior Cardigan for $10! Shout out to Macklemore! I love the color and how vibrant it is, seriously, the photos don't do it any justice. It's also a size large, in men, which means it's super oversized and I love that. I wear this cardigan every chance I get and Geesh always has the nerve to ask "Why do you keep wearing "my" sweater?" I have to admit, he was the one who convinced me to buy it because I initially thought it swallowed me (it does) but definitely in a good way. It pairs perfectly with jeans, a tank & leggings or with the dress pictured below. You can find a similar vintage Dior sweater or cardigan here.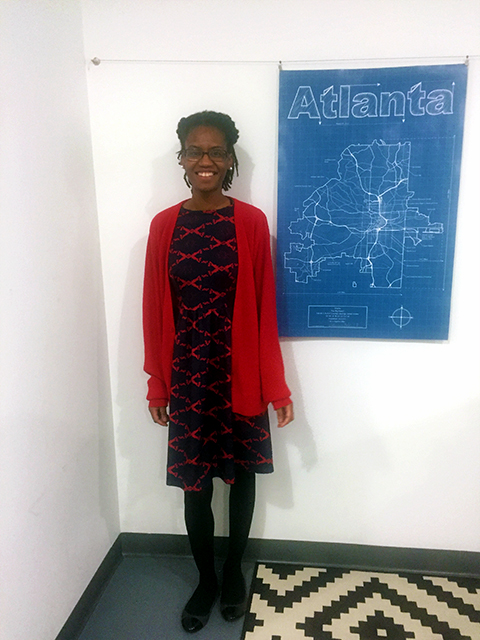 Forgive me for not knowing the designer of this dress (I accidentally ripped the name tag off) but this was also bought at Goodwill for $6! It is navy blue with red floral and striped patterns. It is made of a very thin material and fits like a glove. I often pair this dress with a pair of opaque tights and ballerina shoes for the perfect work outfit.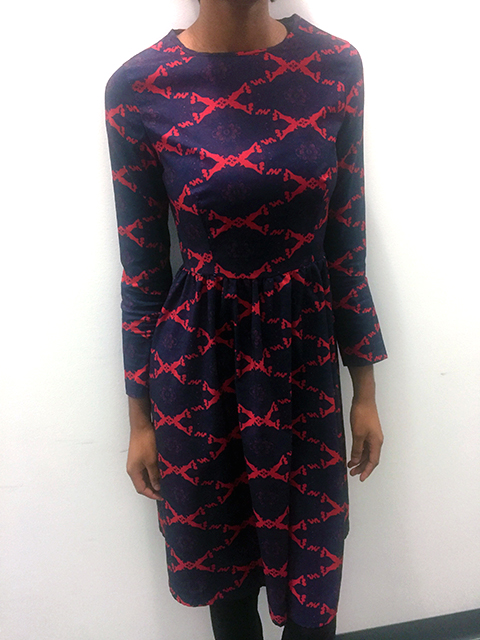 For lunch, I enjoyed some leftovers from the bomb ass meal Geesh cooked last night. We have to be financially responsible in 2018. So if you're spending $10 a day eating lunch and then another $40 on the weekend eating out, that's gonna be a problem for your bank account. Pack your lunch at least three days out of the work week and save that $30. [$30 x 4 = $120 a month saved!]
Geesh made Baked Smoked Paprika Chicken Thighs with Red Beans and Rice and Green Cabbage. Yummy yummy in my tummy! We murdered that meal last night and I did not hesitate to make my lunch for the next day. I know it's not the best-looking presentation, but I PROMISE YOU that crunch and flavor is finger-licking good, sorry Coronel Sanders!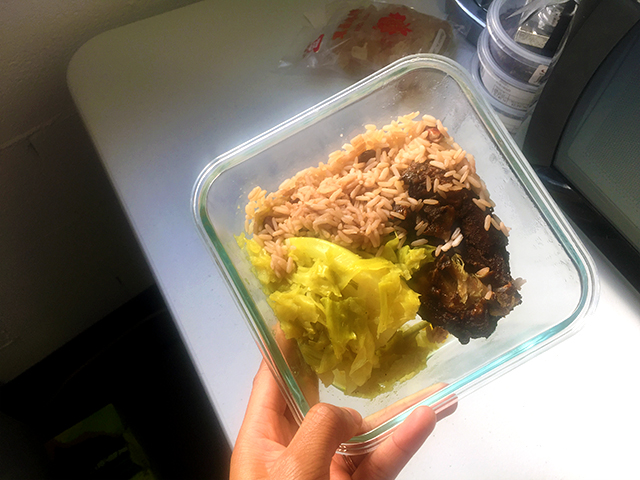 As always, thanks for reading and be sure to follow me on Instagram @OhMinaaa. I will be posing asking you all to submit questions for next week's #LunchBreak post. As a matterafact, if you're reading this now + enjoyed it, shoot me an email at [email protected][dot]com and submit your questions to be featured. Submissions will be anonymous unless specified otherwise.
Peace and Love.